Shelby Little is an artist from New Orleans, Louisiana living in Athens, Georgia. Using bold colors and sharp contrast, her work weaves together inspiration from memories, dreams, and ancient mythology. She received her BFA from the University of New Orleans in 2014. Shelby has been an artist-in-residence at nocefresca in Sardinia, Italy, exhibited at the Ogden Museum of Southern Art, and is represented by Spalding Nix Fine Art in Atlanta, GA.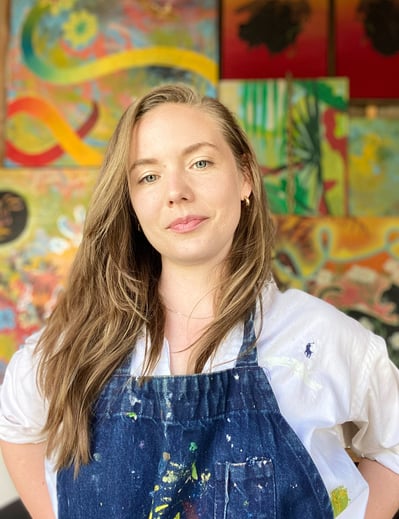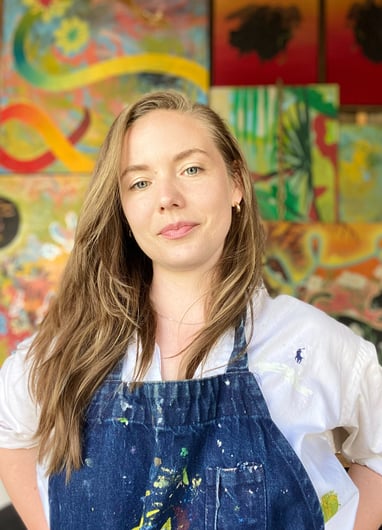 I use artmaking as a form of visual storytelling; there is a hidden narrative that unfolds throughout my process. As I paint, I weave together inspiration from memories, dreams, and my surroundings to create my own mythos, allowing my characters to reveal themselves at their own pace.
I'm interested in the cyclical nature of time, mortality, the afterlife, the thin line between order and chaos, and the seemingly inherent duality in all things. I've found the characters in the nearly endless versions of Greco-Roman myths the perfect reference point for creating paintings that reflect these themes.
My visual source material is often a combination of personal photos, along with sourced images from antiquity. I'm greatly inspired by the ancient world and aim to create pieces that feel both ancient and contemporary - to create a dialogue between the past and present. The personal nature of my paintings pulls the viewer in, while the otherworldly quality of my pieces gives them both a feeling of cheerful imagination with an underlying darkness.